What Our Clients Say...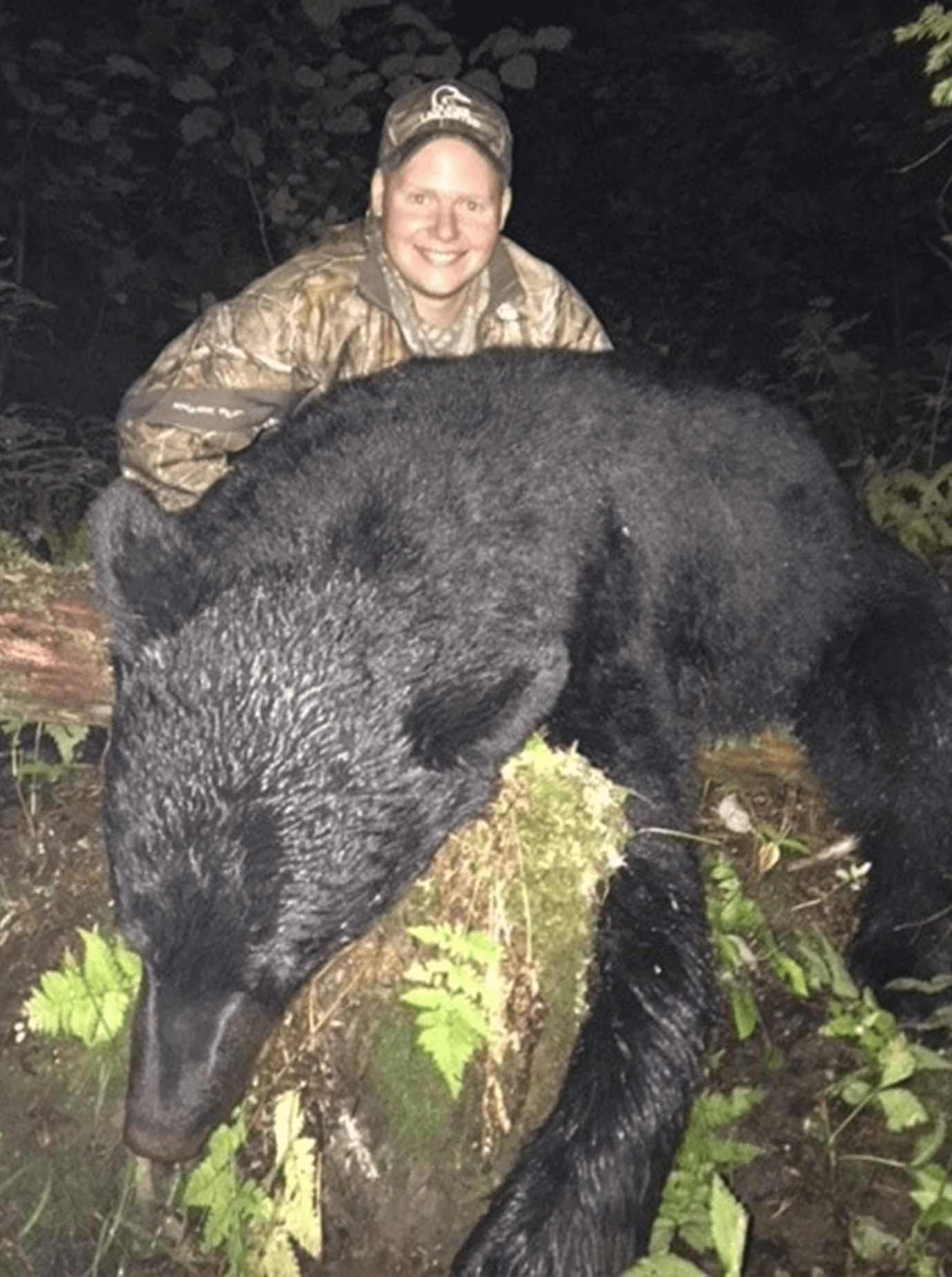 "...an absolutely amazing experience."
I hunted bear with 207 Outfitters and had a great experience. The stand was set up in a perfect spot to get the bears sneaking in, the bait was very active and there were all kinds of bear sign in the woods. The bear came right in as soon as the rain stopped and actually walked right under the tree stand. Josh was great after the hunt with tracking the bear and successfully getting the bear out of the woods. It was an absolutely amazing experience for my first-ever bear tag filled.
Caleb Adams, Churchville, NY
"...the hunt of a lifetime..."
This was the hunt of a lifetime, it took 40 years to get the permit and I can't say enough good about Tim Black and his crew of Seth, Josh, Paul, and Joe from 207 Outfitters, they really took care of my brother and I and I would recommend this group to anyone looking for a good hunt.
Gerald Davis, (Ret) U.S. Navy, Moultonborough, NH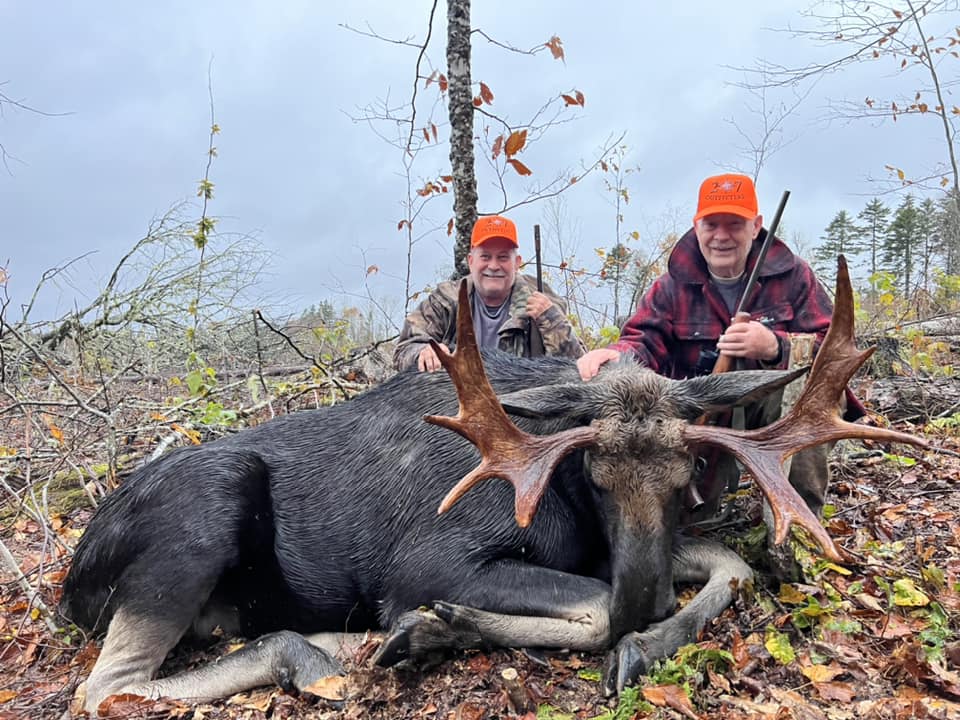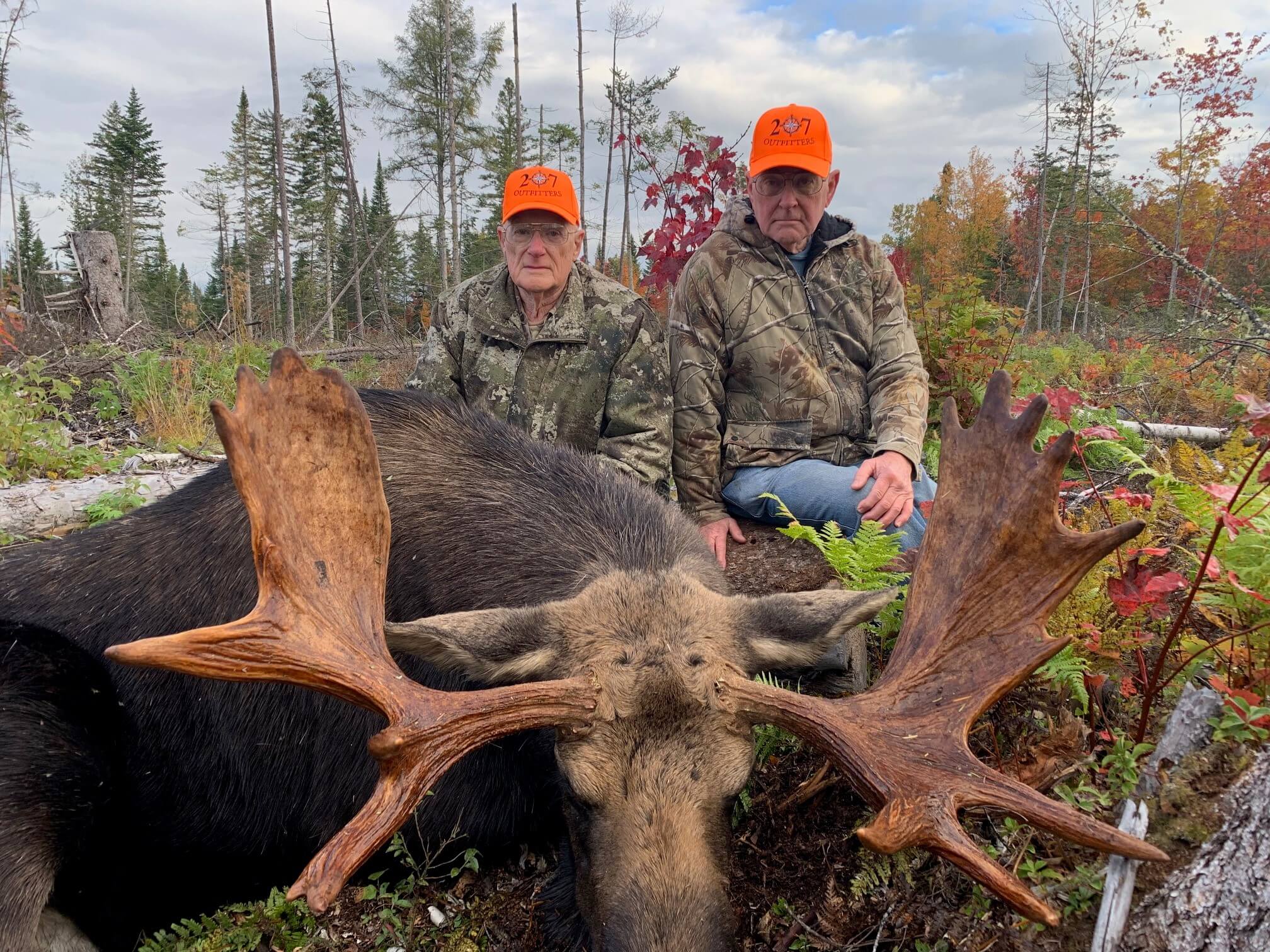 "...by far the best."
I have been on many guided hunts, and this was by far the best. Tim and Josh were always cheerful and friendly. I am in my 80s and have physical limitations from old age and service-connected injuries. My disabilities were accommodated without a hint of annoyance. I enjoyed the hunt so much that I have booked another for this fall.
Peter Anderson, J.D., Ph.D., Col. (Ret) U.S. Army, Bangor, ME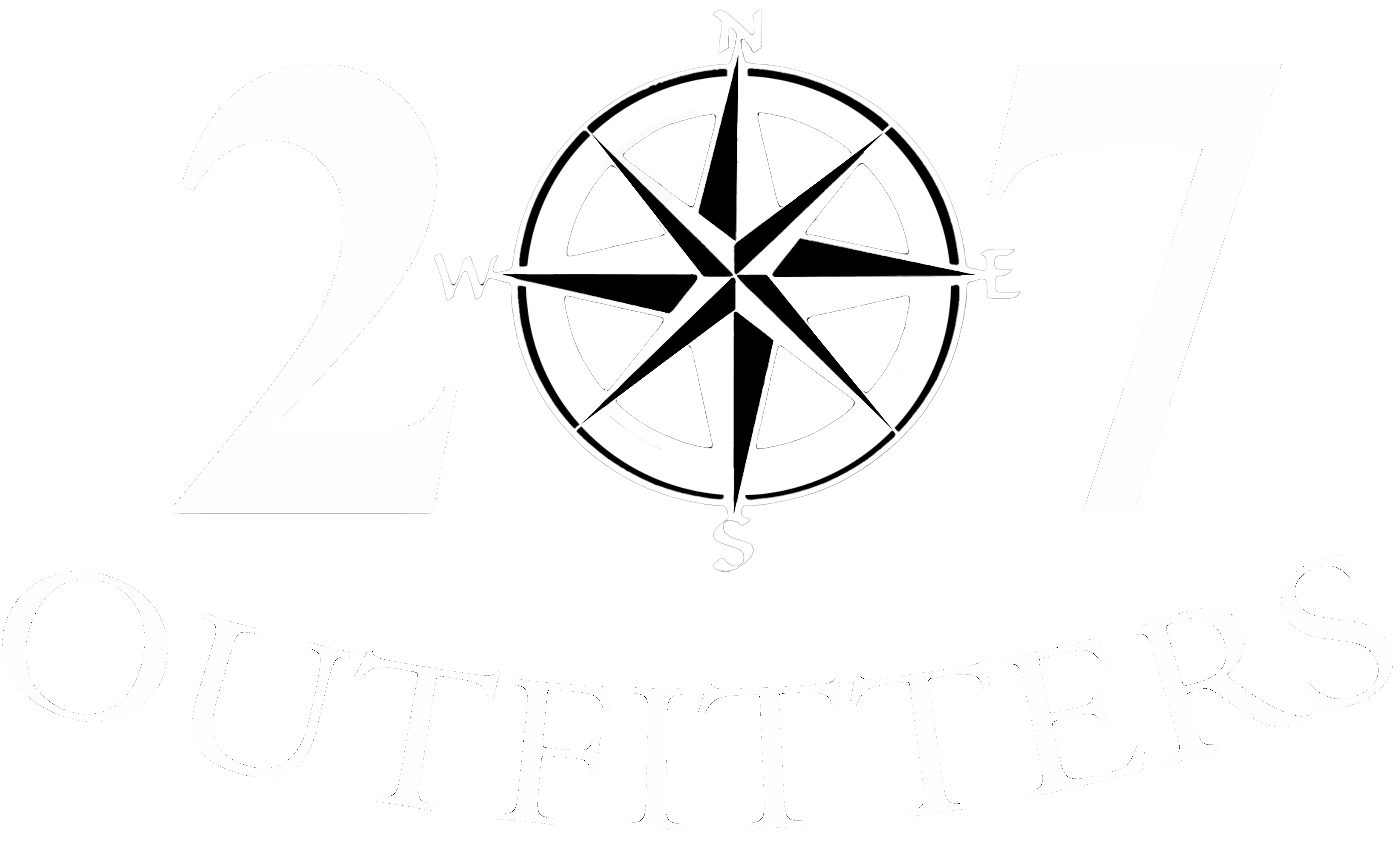 Book your Hunt Today
Book Now
"...207 Outfitter is your only logical choice."
After 20 years of being in the lottery for a moose tag 2021 was my year. I drew a cow moose tag and was now faced with finding the perfect guide to give me the best opportunity to fill my tag.
I knew exactly the type and character of guide I wanted. Honest, ethical, law-abiding, and knowledgeable were absolutely must-haves in the guide I wanted to hunt with. After talking with several potential guides in the area I couldn't find "my perfect guide". So after a little time thinking about a solution, I called the Game Warden in my area and told him exactly what I wanted in a guide. Without a moment's hesitation, he said, "You want Josh Haines"! Just that quick I found my guide. I talked with Josh and we got together and I talked with him about what I wanted out of the hunt. The price was also the best value of all the guides I spoke with. He listened and we talked about all aspects of the hunt and the deal was done.
The hunt was fantastic, and Josh took outstanding measures and effort to ensure it was successful. He is a superb and knowledgeable guide and an excellent bush chef! As a 100% disabled veteran, I had some limitations and Josh worked with me on those perfectly. We hunted hard and saw several nice bulls and cows. On the last few days of the hunt, Josh brought on another outstanding guide, Tim, to up our chances of success. Success is exactly what we got, thanks to Josh and Tim, I harvested exactly the cow I was hoping for. I wanted an older barren cow no longer of breeding age and that's exactly what I got. Thanks to Josh and Tim. She weighed between 700-750 and the meat is absolutely delicious.
If you want to give yourself the absolute best chance to fill a possibility once-in-a-lifetime tag or have a fantastic hunting experience, Josh Haines and 207 Outfitter is your only logical choice.
Jonathan G. Roark, CDR, USN (Ret) Chapman, ME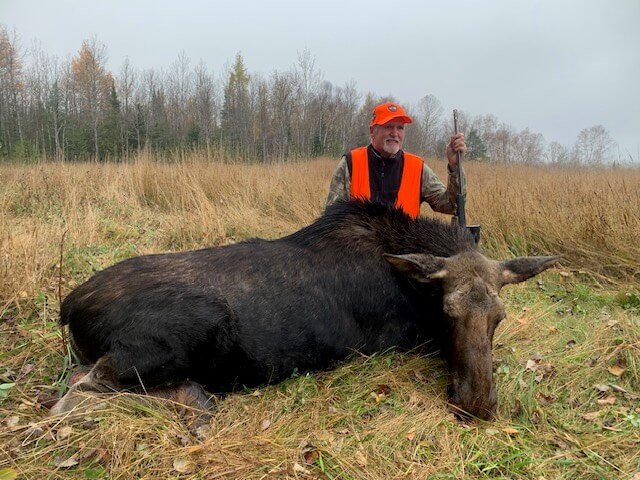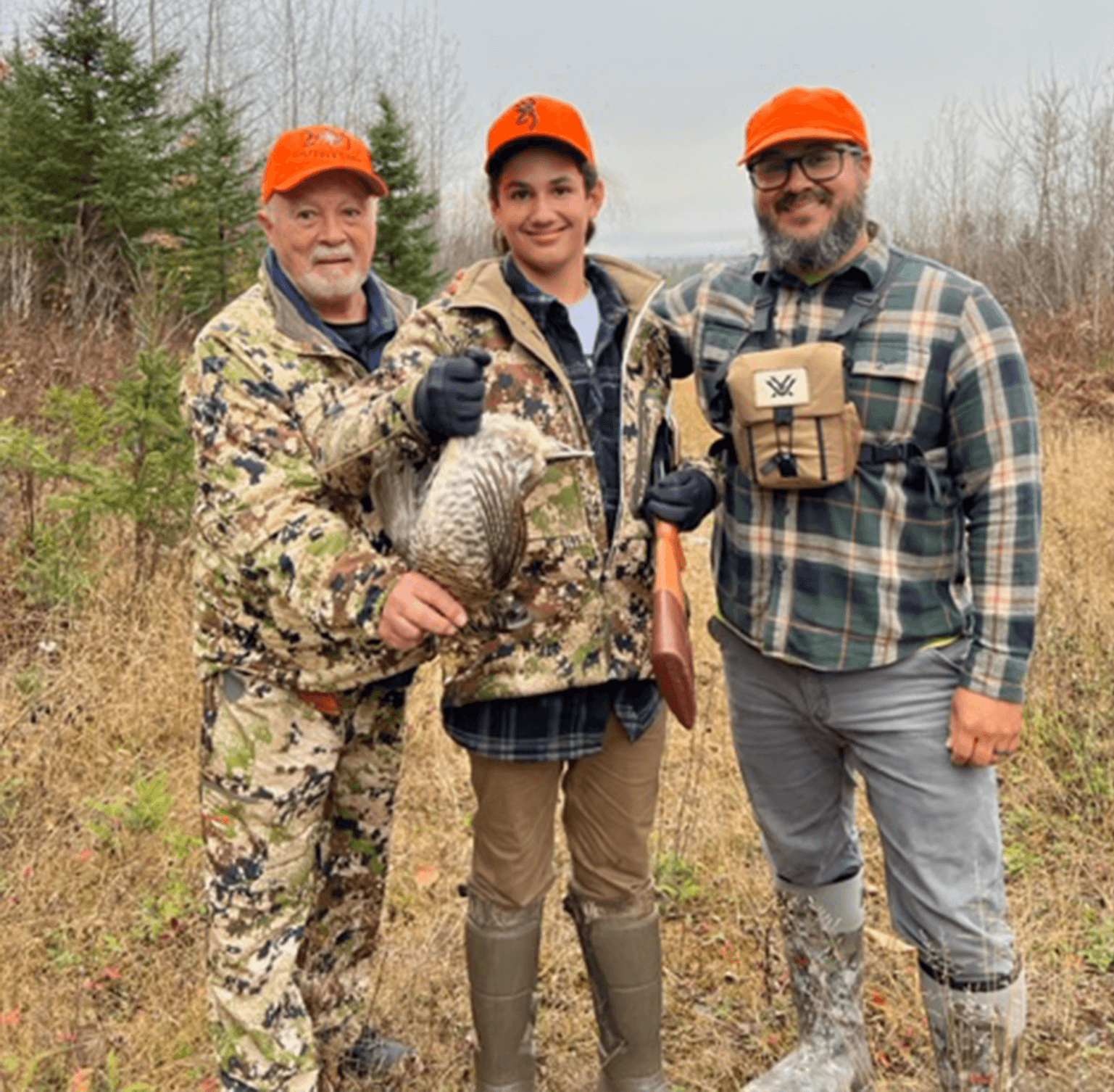 "I would recommend Tim and Josh to anyone..."
Situated in the heart of Zone 6, 207 Outfitter's hunting camp is clean, and comfortable. We always looked forward to returning to camp after long 10+ hour days. The living/dining area was warm and spacious and the bunk room had plenty of room to sleep larger parties. Generator power was made available overnight if needed. They have a great set up for a shower which was welcome after an extended stay in the woods.
All meals were provided for including breakfast, lunch, snacks and supper. All the meals were hand made, hearty home cooked style. One evening we were treated to a meal cooked by Josh's mother and grandmother. We were never hungry! The guides (including their families!) were excellent cooks both in the kitchen and in the field. The bucket of snacks were a big hit with my son, too.
Both guides were very knowledgeable of the animals, the area, and the terrain. Although we were not successful in harvesting a (Cow) Moose, we were not short on seeing them. We had some limitations physically so were limited in our approach and strategies. The guides were more than happy to adapt to us, and did their best to put us in areas where the Moose were.
We were close on a handful of occasions. They also did a great job of keeping my son into the hunt, finding him partridge to harvest.
I would recommend Tim and Josh to anyone doing a Moose hunt in Zone 5 or 6. They're located in a great spot with a strong population of both Bulls and Cows. They are both incredible people with great attitudes, expansive knowledge and experience. They were happy to share their expertise, and great stories. Although we were not successful, they worked their tails off for us, and we really enjoyed our time with them. We look forward to working with them again and continued friendship.
Keith Matherne, Biddeford, ME
"...some of the best woodsmen..."
"The biggest concern when trying to hire a Guide or Outfitter? Is their website and information as a legit as it appears on the computer? Am I "rolling the dice" on this trip? Traveling several hours to realize you've made a horrible and expensive decision is tragic.
To put all fears aside, I've known this team of Guides at 207 Outifitters for over 20 years. Josh, Tim, Seth and Blaine are not only some of the best woodsmen I've known, but also the most professional, polite, patient and fun. I have fished with these guys, hunted moose, turkey and mostly bear over the past 20 plus years. Their attention to the little things is what I respect the most. Their knowledge of the area, the high-quality bait, the safety of the hunt, their pre- planning, the locations they hunt are just a few of the things 207 Outfitters will provide. They all enjoy sharing their knowledge and convey it in the humblest way.
Every year, I look forward to the Bear Hunt with 207 Outfitters. There's nothing like the weather in Aroostook County, Maine that time of year. It's enjoyable to play golf at two very nice courses in the morning, then go to an immaculate bear stand to sit for the evening. If you're curious about the quality of bait, there have been several instances where I've "snacked" on it while walking to the stand.
Don't roll the dice. For an excellent adventure with humble professional Guides in beautiful Maine, 207 Outfitters is a solid choice.
Nicholas Grass – Vassalboro, Maine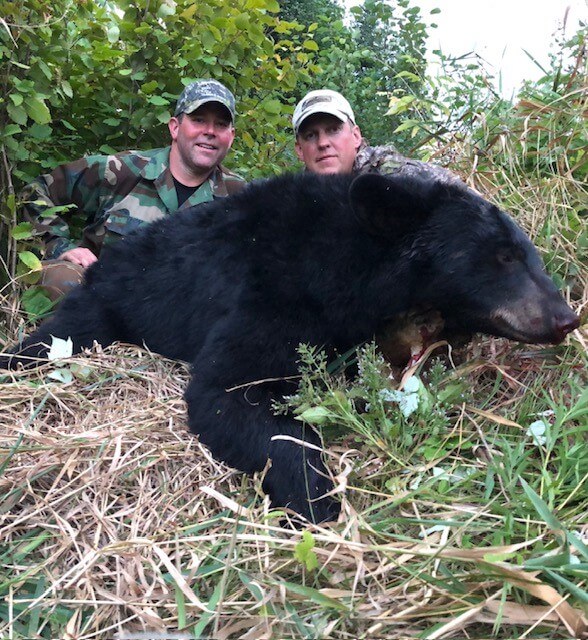 Contact us to see how we can help you.
Book Now